Kaya Toast
Kaya is a traditional topping of sugar, eggs, coconut milk and pandan (pronounced "pun-dun"). It's usually served on toast with butter, with a side of half boiled eggs and coffee (kopi) or tea (teh). There are two main franchises you'll see that serve this breakfast / anytime snack:
Toast Box – Generally staffed by young Asian men
Ya Kun Kaya Toast – Generally staffed by older Asian aunties
Always go with the Asian aunties.
Milk Tea
Li Ho vs Koi Thé
Koi Thé wins – we were recommended the Hazelnut Milk Tea with Golden Balls half sugar. You can't go wrong with that.
Convenience Stores
There's a 7 Eleven store in most places that are open 24 hours and are much superior to the ones in Australia. Mainly due to meat pies and sausages rolls being replaced by instant noodles and boiling water taps. Not to mention they also sell alcohol.
You can also get tourist mobile sim cards here which are really handy. Ours included 100gb of data with a number that can receive incoming calls for $SG 12, valid for 7 days.
Burgers
Check out Mos Burger – they are a Japanese burger joint which have rice burgers on their menu and are reasonably priced. I enjoyed the Yakiniku Rice Burger as well as the Wagyu Burger Demi-glace. Whilst you're at it, try one of their croquettes.
Rooftop Bar
We were lucky enough to be taken to a rooftop bar called Mr Stork which had some amazing views of the city.
Salted Egg
Singaporeans love their salted egg flavour food. We tried salted egg flavoured rice, salted egg flavoured macaron, salted egg flavoured KFC and of course their…
Salted Egg flavour potato chips are the bomb, the most popular brand is Irvin's. They are usually only available via their branded stalls, and sometimes run out of flavours quite quickly. Also, they're on the expensive side – a 200g packet can set you back about $SG 16.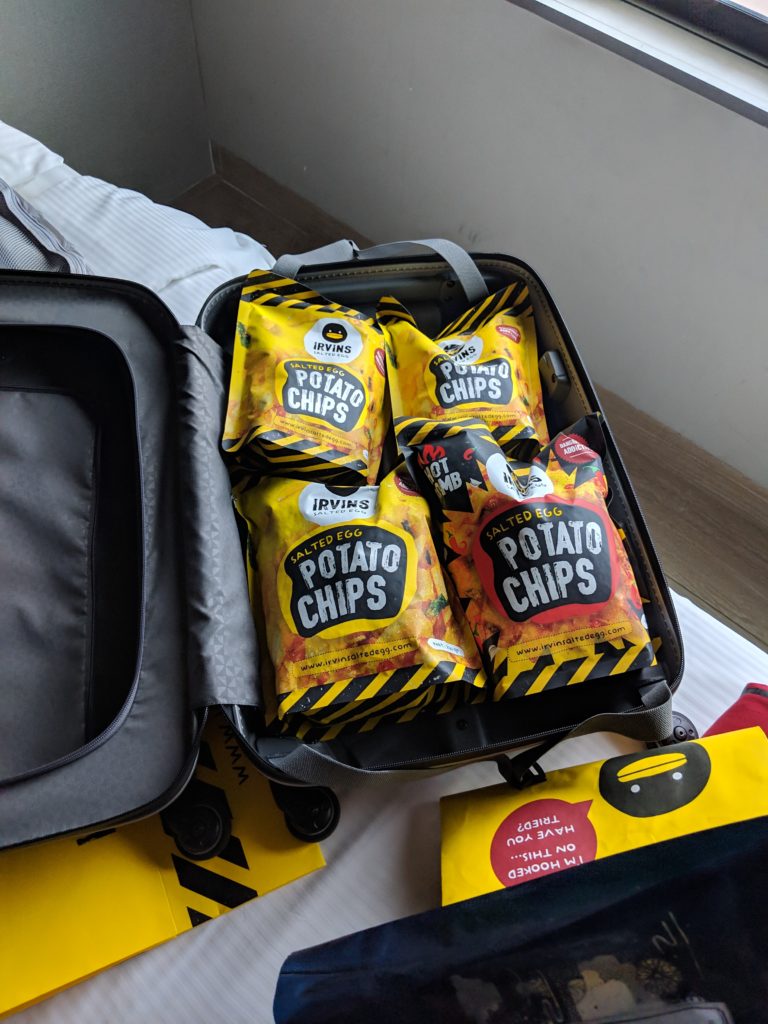 Filipino?
There's a couple of Jollibee's, the one we went to was in Lucky Plaza on the main shopping strip of Orchard Road.
Got any other must see/taste places in SG? Feel free to share in the comments!
---